Julius Deetken:Pioneer Druggist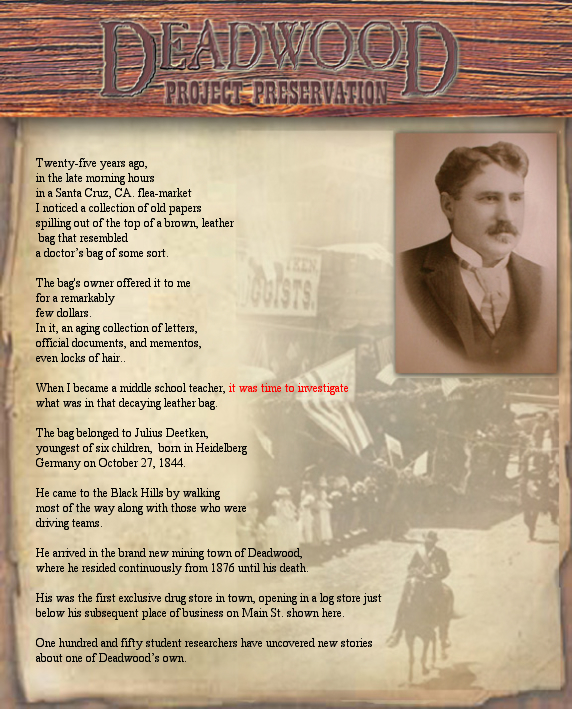 PDF of Julius Deetken: Pioneer Druggist
Edward Thorndike may be counted on to say in few words what amounts to a highly complex idea. He once said that with learning as with any activity, ability must be supplemented by interest or desire. "If we wish to learn a certain thing, we must arouse adequate interest ...we must transmute this general wish into an interest that will carry us to and through the detailed activities necessary "(Thorndike, 1935, p.85).
His straight-forward conclusion was that in planning any educational endeavor, it is important to account for the level of student interest. "It is important know whether the student has it, how strongly he has it, and when and how he has it" (1935, 85).
A project in a San Jose, California middle school was imbued with Thorndike's principles and placed them at the forefront of key decisions affecting instructional design. These decisions involved how to create a structure enabling students to learn the skills necessary to carry out many sub-processes that require prerequisite knowledge while at the same time have an absolutely authentic experience with real world consequences.
Twenty-five years ago, in the late morning on a breezy summer Sunday, the Santa Cruz flea-market was winding down. I had spent hours wandering around the legendary swap, looking for musical instruments, especially guitars, my new passion. Just before leaving empty-handed, I noticed a collection of old papers spilling out of the top of a brown, leather bag that resembled a doctor's bag of some sort. It was sitting at the foot of a gold and green blanket holding down one corner. As I walked past it, I looked down and was drawn to this bag, as I thought there might be something interesting in there. The bag's owner, sizing up the day's meager efforts and seeing my interest, offered it to me for a remarkably few dollars. I agreed even before taking a good look inside. When I returned home, I took a closer look and saw an aging collection of letters, official documents, and family mementos. To my surprise, there were personal stories, family timelines, and even locks of hair from family members dating back generations.